About us:
We provide full design, technical support and facilitation of online participatory conferences and rich interactivity high diversity stakeholder dialogues
See also our sister site open2flow.com for resources and other services
We are a group of experienced facilitators and coaches who have operated in the fields of VUCA and complexity for many years. Many of us have been working virtually for the last 5 or so years, and have extensive experience of running online interactive meetings. We are familiar with the online tools that work for this, with processes and etiquette which encourage complete engagement and good communication. From our experience not many people can facilitate genuine conversations that matter, putting participants at the centre, interactively, and do so online.
While there are many tools out there for "communicating" virtually, most are one-way (e.g. webinars). Even if they allow responses, those responses rarely influence the minds of the presenters, in a way that genuine conversation can. What we specialise in are not simply running effective communications (we can do that too) but in enabling rich peer to peer interactivity in the exchanges, and we do that online "face to face" with a combination of video technology and other online collaborative tools.
Open 2 Flow was founded by François Knuchel in 2001 with a view of opening the flow of communication and of interactions in organisations while elimiting waste and toxicity. François has 40+ years as a facilitator and trainer with specialities in lean
business design, intercultural management and new leadership paradigms. He enjoys working in a hands-on, pragmatic and intuitive way with people on the ground doing the work. He is one of Europe's leading experts on sociocracy, a participatory governance approach that is being increasingly adopted in advanced organisations. His favourite complexity participatory social technology, however, is Open Space. François learned his trade working in Japan for the auto industry, gaining experience of self-managing teams and quality circles.
The  Online Tools we use
Technically, depending on the requirement, we use a combination of collaboration tools like:
Zoom Conferencing (and other video conferencing platforms)
QiQoChat
Google Docs suite
Google Drive
Miro or Mural
SpatialChat
and many more
Our expertise lies in how we combine those tools, using self-organising principles, to enable genuine participant-led conversations. Our experience is with running liberating meetings and conferences that do not suck, but are highly engaging, and we now do that now online.
The methodologies we draw from are predominantly from:
Open Space Technology
Multi-Mind Thinking
Theory U / Bohmshe Dialogue
Liberating Structures
Sociocracy
Agile Principles
Beyond Budgeting / Vanguard
Lean-flow Systems thinking
Imago Connectivity
Reinvention skills
SIMULATION ……
In collaboration with GoFish! Collective we also run a unique online group simulation for 10 – 50 people. The simulation helps the delegates from the organisation understand their corporate culture better and uncover the hidden assumptions affecting how they work and collaborate, with a view of then being better able to move beyond and co-create new ways of working and organising.  For more details please read our blog (coming soon) or visit the simulation website.
---
Open 2 Flow offer a number of other services which can be found in our sister web-site open2flow.com.
---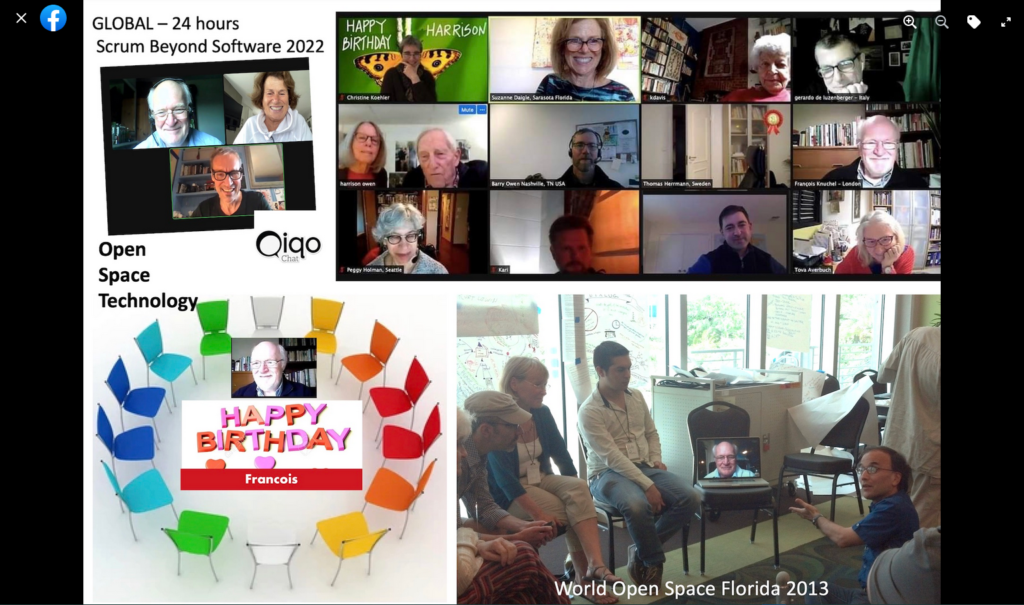 Transcultural Synergy Ltd:
Open 2 Flow is the trading name for Transcultural Synergy Ltd.  While we are based in the UK, the service being online we can run it internationally. We are connected to many networks and facilitators around the world who can facilitate and teach online interactive meetings and conversations, so where appropriate we also refer clients to one of our associates, possibly closer to where you are. Please therefore give a description  of what specifically your needs are in the form so we can make a judgement whether to pursue this ourselves or refer onwards.
Interested?  Please contact using this form.